Takanori Ishizuka " Sleeping/Death "

[Date]
tue 21st  February―fri 21st April,2017   12:00―18:30
 Closed on Saturday, Sunday,Holiday
[Venue]
"un petit GARAGE"
The Ginza Musashino Building 1F
7-17-1 Ginza,Chuo-ku,Tokyo,104-0061,Japan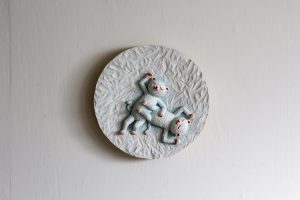 「whiteout」
Φ27×6cm / camphor wood on acrylic, oil / 2016
"It is slightly eerie, but somewhere cute " Takanori Ishizuka has created such mysterious creatures.The world in which the creatures live is funny, mysterious and sometimes  cruelty. At first glance, their looks seem cute, but they seem to give us a sarcastic glance. That action seems like the instinct of human in itself. Ishizuka visualizes human emotions through these creatures, and creates the mysterious world.
His art work are not limited to a painting, and in recent years he has made many wood carving. The fantastic creatures and the unique scent of wood overlap each other, and will invite the people who visited this exhibition to the world in which they lives.
In 2015, the solo exhibition "KEMONO Apartment" was held in Yokohama,and many people visited to see his art works. This time is the solo exhibition for the first time in about a year and a half since that.
We are looking forward to seeing you.
Takanori Ishizuka
Born 1970 in Kanagawa, Japan.
On the basis of Invisible "everything", he creates mysterious creatures and expressed in drawings, paintings, sculptures and installations.
His style that the comical creatures make is highly appreciated both at domestic and overseas.
《Solo Exhibitions》
2015
"KEMONO Apartment", Yokohama Apartment, Yokohama, Japan
2014
"totem", nca | nichido contemporary art, Tokyo, Japan
2011
"Takanori Ishizuka", TRAUMARIS, Tokyo, Japan
2010
"Takanori Ishizuka", hpgrp gallery, Marunouchi, Tokyo, Japan
2009
"Sacred Beast", nca | nichido contemporary art, Tokyo, Japan
2006
"Kemono" DISCO, Yokohama, Kanagawa, Japan
2005
"Taberu-chan", Little more gallery, Tokyo, Japan
"Wa☆Shoi!", Makii Masaru Fine Arts, Tokyo, Japan
2004
"Landscape of White Lovers", Barrow Gang at Laforet Harajuku, Tokyo, Japan
《Collections》
The Museum of Contemporary Art Tokyo