Aki Moriyama "DOLLs"
[Date]
mon 21st  August―sat 30th September,2017   12:00―18:30
 Closed on Saturday, Sunday,Holiday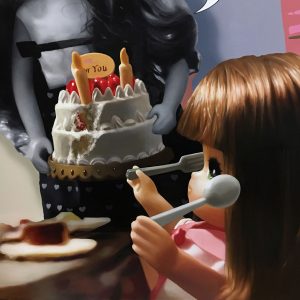 "Gift"(a part of a painting)
size:162×162cm/oil on canvas
The dolls which Aki created are quite attractive. However, there is a kind of floating feeling like the bodies and spirits are slightly splitted.
Even though actual humans, when people make themselves presentable, wear make-up and dress up, we are impressed as if they were dolls. On the other hand, when dolls show their body confidently, it could make their thoughtfulness or spiritualities deeper. Her works remind us various images and ask questions.
Being a university student, Aki is still immature as an artist, but I would like many people to see her new works rather than waiting her growth. For the first step of Aki's carrier as an artist, I will be very grateful if so many people as possible become eye-witnesses of her art. Please feel free to come and see our gallery in Higashi Ginza.
-Art Producer Yumi Yamaguchi
●Artist Biography
Aki Moriyama/森山亜希
WEB:https://moyan-a.amebaownd.com
1991 Born in Saitama, Japan
2014- Bachelor of Fine Art, Oil Painting Major, Department of Painting,Tokyo University of the Arts (currently enrolled)
Grants/Awards
2016 Shell Art Direction Award 2016 Winning Prize
2016 The 3th CAF prize Yumi Yamaguchi Award
2015 The 10th GEIDAI art plaza AWARDS Winning Prize
2015 GEIDAI arts in Marunouchi (GAM) Award
2015 Tokyo art university Keiichiro Kume encouragement of study fund authorization
Exhibitions
2017 Genron chaos * lounge new art school second graduate standard course result exhibition
2016 Shell Art Direction Award exhibition 2016,The National Art Center, Tokyo
2016 "Group Show~ Sommes-nous heureux?", Bambinart Gallery, Tokyo
2016 The 3th CAF prize exhibition 2016 ,3331 Arts Chiyoda, Tokyo
2015 GEIDAI Scouting Gallery, MARUNOUCHI BUILDING, Tokyo
---
[Venue]
"un petit GARAGE"
The Ginza Musashino Building 1F
7-17-1 Ginza,Chuo-ku,Tokyo,104-0061,Japan